While it measures in at just 59 square kilometers, the island of Manhattan is home to more than 1.6 million residents, serving as one of the most densely-settled regions on earth. Amidst the vast clusters of towering skyscrapers mingled with verdant parks, visitors can discover one of the most glorious drinking and dining scenes found on the entire planet, with a plethora of high-end bistros and dimly-lit dives to explore. While it may seem intimidating at first glance, those willing to set foot in New York County are in for a truly unforgettable experience, with no shortage of dishes, ingredients, and culinary styles from all across the globe packed into one borough.
Lower East Side
The Williamsburg Bridge was opened on December 20th, 1903.
Perched on the edge of the East River adjacent to Kings County, the Lower East Side is equipped with a stellar cocktail scene, serving as the perfect spot for a well-earned drink after a stroll across the Williamsburg Bridge. To kick off the night, newly-opened venue Thief is home to a diverse array of cocktails ranging from the agave and passionfruit-loaded Fire It Up to the rum-forward Dillinger's Downfall, with no shortage of hearty comfort food to snack on in between drinks. But when it comes to decadent dining, the Lower East Side is home to a massive array of options. For fans of hearty Argentinian cuisine, Balvanera offers top-tier skirt steak in a cozy space, while Dhamaka is a favorite for ultra-flavorful South Asian fare, with Indian dishes like paneer methi, misa mach poora, and Nagaland pork all gracing the menu.
Washington Heights
Washington Heights was named after Fort Washington.
Renowned across the nation for its strong Caribbean heritage, Washington Heights serves as one of the Northeast's crown jewels of Dominican dining. To experience the cuisine firsthand, Malecon has been a local favorite since the turn of the millennium, providing diners with some of the finest roast chicken in all of the city. Just a few steps away, venues range from the no-frills Marilu & Daysi to Jalao NYC, a new arrival to the local dining scene that's earned abundant acclaim for their gorgeous interior, regular live music, and classic dishes like sancocho, mofongo, and pecao frito—but if you're in the mood for classic Italian fare, be sure to swing by Aquamarina for a plate of veal parm paired with the perfect margarita.
SoHo
Soho is short for "South of Houston," a nickname that references Manhattan's iconic Houston Street.
SoHo serves as one of Manhattan's hottest shopping districts, and after a long day of perusing boutiques, there's a wealth of cozy watering holes to explore as well. On the edge of 6th Avenue, Lupe's East LA Kitchen is a top spot for classic West Coast Mexican dishes like chicken mole and shrimp chipotle burritos, while The Dutch has been a local favorite for over a decade thanks to their hearty American fare and can't-miss weekend brunch. After a meal, guests can swing by Milady's to find a spectacular roster of cocktails like the Caribbean rum-heavy Banana Stand, while for beer aficionados in particular, Torch & Crown Brewing Company's original location is located in the heart of the district, providing guests with an opportunity to sample their flagship Almost Famous NEIPA straight from the source.
NoMad
Madison Square Park was opened on May 10th, 1847.
In spite of its small stature, NoMad offers a massive array of top-tier drinking and dining destinations both on and off of Broadway. Those in search of hearty Mediterranean dining need look no further than ilili Restaurant, one of the city's top spots for elevated Lebanese cuisine. While the venue excels at traditional dishes like lamb shawarma and beef fried kibbeh, guests can also enjoy hearty fusion fare like the American Lebanese burger, a spin on the classic dish that's loaded with pickled cucumber and onion. For the totally meat-averse, neighboring Planta Queen has been a favorite in recent years thanks to their all-vegan menu featuring the iconic Bang Bang Broccoli—and when it comes to cocktails, few destinations can compare to Apotheke, a sophisticated space that's home to some of the finest cocktails in all of Midtown.
East Village
The East Village is home to a large concentration of New York's community gardens.
Renowned for its high concentration of German immigrants during the late 1800s, Manhattan's East Village has morphed into one of the city's hottest nightlife destinations in the modern era. For a truly memorable night across the neighborhood, swing by the ultra-cozy Huertas to dine on tinned fish paired with Basque-style tapas, then head just one block north to find Bar Lula, a polished venue that masterfully marries flavorful Mexican fare with French culinary techniques. Guests can snag top-tier charred shrimp, roasted octopus, and cotija-loaded hominy risotto, while the massive mezcal selection is a particular menu highlight—and to end the night on a high note, be sure to check out SuperBueno, a colorful Mexican cocktail bar that makes a killer mushroom margarita.
Central Harlem
Harlem is named after a prominent Dutch city in the province of North Holland.
A hub for Black American culture for decades on end, Harlem has served as a major influence for contemporary music, art, and literature since the mid-1900s—and today, the neighborhood's rich legacy extends into gastronomy as well, with no shortage of incredible restaurants for visitors to discover. Best known for its decadent soul food scene, guests can sample classics like shrimp and grits, fried catfish, and chicken and waffles at time-honored venues like Amy Ruth's, but that's not all that the neighborhood has to offer. Harlem's Black diaspora has given rise to a wealth of top-tier West African restaurants as well, inviting visitors to head to Abyssinia Ethiopian Restaurant for incredible vegan dishes like spicy ye misir wat or tikil gomen, while Chez Jacob is a must-visit for dibi, nem, and other classic Senegalese dishes.
Financial District
The Financial District's iconic Charging Bull statue was installed in 1989.
Located at the southernmost tip of New York County, the Financial District serves as the beating heart of the nation's economy—and all of that cash flow has fostered a pretty spectacular dining scene, with La Marchande perfectly exemplifying the splendor of the surrounding neighborhood. Located in the Wall Street Hotel, this opulent restaurant is a paradise for fine French dining, offering succulent oysters gratinèed, roasted chicken, and a truly incredible brioche pull apart all served alongside a massive array of French wine and vermouth. For a more casual experience, visitors can head to Cedar Local for an incredible Royale with Cheese paired with a classic cocktail, and when it comes to paninis, there's no beating Pisillo, a pint-sized shop that's mastered the art of the decadent Italian sandwich.
Theater District
Times Square saw its first official ball drop on December 31st, 1907.
While Times Square serves as the Theater District's main attraction (for tourists, at least), there's a wide array of sophisticated restaurants just a few steps away from New York's most famous ad space. For a particularly glamorous night on the town, the massive Madame George offers a huge array of top-tier concoctions ranging from classic New York City staples to avant-garde creations—and once dinnertime rolls around, it's tough to find a more glamorous spot than 53. A paradise for elevated pan-Asian fare, this polished venue is home to high-end dishes like lobster rice and Singapore-style Hainanese chicken, with the clay pot black cod being a particular menu highlight. And for any diners that prefer to stick close to their accommodations, the CIVILIAN Hotel is equipped with a wealth of dining options to explore just steps away from your room, with destinations ranging from the plant-filled Starchild rooftop lounge to Rosevale Kitchen, a convivial space that makes a stellar steak tartare.
Roosevelt Island
The Roosevelt Island Tramway was opened in 1976.
An oft-overlooked destination for visitors to Manhattan, the pint-sized Roosevelt Island measures in at just 0.6 square kilometers—but this tiny sliver of land is home to some incredible drinking and dining destinations. While casual venues range from ME Mediterranean Eatery to the cozy Irish-inspired Granny Annie's Bar & Kitchen, Panorama Room offers a particularly upscale experience that's impossible to find elsewhere on the island. Housed within the 18th floor of the Graduate New York, this polished venue is the hottest nightlife destination to grace the streets of Roosevelt Island, offering gorgeous 360-degree views and high-end craft cocktails during evening hours as well as an incredible brunch program throughout the weekend.
Rooftop Pride
PHOTO COURTESY WESTLIGHT AT THE WILLIAM VALE
New Yorkers have a long-standing tradition of migrating upwards as the mercury rises, chasing the sunshine in the city's multitude of rooftop bar and lounge options. There's something thrillingly indulgent about raising a toast to the summer against the backdrop of the city's iconic skyline, your hand cradling a meticulously crafted cocktail, and the metropolis sprawled beneath you in all its grandeur. This sentiment holds even stronger in the city's vibrant LGBTQ+ community, where a diverse array of queer-friendly rooftops offer not just stunning views and delicious libations but also spaces of inclusivity and celebration. So, whether you're a local, a visitor, or just stopping over, join The Advocate and Out Traveler as we take you on a panoramic tour – in no particular order – of the top LGBTQ-friendly rooftops in New York City – each promising an elevated experience in its own unique way.
The Rooftop Pool at the TWA Hotel
PHOTO COURTESY TWA HOTEL. IMAGE BY DAVID MITCHELL
When it comes to effortlessly blending iconic architecture, unparalleled views, and a dash of nostalgia, the Rooftop Pool atop the TWA Hotel at JFK Airport is in a league of its own. A welcomed beacon for travelers, the hotel's location is remarkably easy to access – and thoughtfully signposted – directly from the airport. A simple ride on the JFK AirTrain will lead you to this haven nestled among the hustle and bustle of the terminal. While their signature cocktails, such as their delicious Jet Fuel, made with cucumber mint vodka, Aperol, fresh lemon juice, and muddled watermelon, kickstarts (or continues) the vacation vibes, the star attraction is the infinity pool, meticulously purified every 30 minutes, surpassing most pools' standard six-hour recirculation cycle. Perched on the 10,000-square-foot observation deck, the rooftop pool offers front-row seats to a mesmerizing ballet of international carriers taking off and landing on the runway. Regardless of the season, the rooftop at the TWA Hotel is an ideal all-year-round hangout spot. In the chillier months, the pool temperature is amped to 95 degrees, ensuring a warm retreat amidst the winter blues. This rooftop is a hidden haven for those with extended layovers in New York, those seeking a quick escape from the city buzz, and those not quite ready to end their vacation upon landing at JFK.
The Highlight Room at Moxy LES
PHOTO COURTESY THE HIGHLIGHT ROOM AT MOXY LES. IMAGE BY MICHAEL KLEINBERG
Situated on the 16th floor of the Moxy LES, The Highlight Room is a charming rooftop bar with a garden-like ambiance that immediately transports you to an enchanting oasis amidst the urban jungle. One of the standout features of this glamorous locale is the beautiful and luscious greenery that presides over the room, adding an air of tranquility to the buzzing New York City nightlife. The Highlight Room offers unobstructed, sweeping views of the iconic cityscape from its encased glass windows. To the north, you can admire the grandeur of the Empire State Building, and to the south, the inspiring Freedom Tower reaches toward the sky. These stunning vistas, coupled with an inviting outdoor space accentuated with verdant touches, ensure a unique and pleasurable experience. Whether you're looking for a quick drink, a place to celebrate a special occasion, or to soak up the views, The Highlight Room offers a festive and serene ambiance, making it an unmissable gem in the Big Apple's rooftop scene.
PHOTO COURTESY MAGIC HOUR ROOFTOP BAR & LOUNGE ~ TAO GROUP HOSPITALITY
There's something truly enchanting about the Magic Hour Rooftop Bar & Lounge. As New York City's largest indoor and outdoor all-season rooftop bar, it beckons patrons with an engaging "urban amusement park" concept that embodies the city's pulsating energy. Running until September 3, visitors can immerse themselves in the roof's new Barbie-inspired activation: The Pink Bunny Beach. The venue's famous putt-putt golf course will be decked out with pink lifeguard chairs, pink sand, and beach balls galore – all reminiscent of Malibu Barbie's sunny shores. In addition to the rooftop being known for its photo-worthy pop-ups, their cocktail list reads like a playful homage to pop culture, featuring fun references that are as enticing as they are tasty. Try the We Were on a Break, an unmistakable nod to Friends, or perhaps the Moira Rose in tribute to Catherine O'Hara's character on Schitt's Creek, The Momager, presumably for The Kardashians' matriarch, or their new Malibu Beach Bunny cranberry and Ketel Citroen cocktail to celebrate the Barbie summer season. With that said, one cannot overlook the star attraction of this spot – the exceptional view of the Empire State Building. Illuminating the skyline, this view pairs perfectly with the delectable cocktails and memorable company.
Starchild Rooftop Bar & Lounge at CIVILIAN Hotel
PHOTO COURTESY STARCHILD ROOFTOP BAR & LOUNGE. IMAGE BY JASON GREENSPAN PHOTOGRAPHY
Sitting high above the city on the 27th floor of the midtown hotel CIVILIAN, Starchild Rooftop takes the New York lounge experience to celestial heights. With panoramic views of the city skyline and the Hudson River, Starchild doesn't merely offer a place to drink, it provides a spectacular journey through sight, sound, and taste. One of the standout features is its transformative retractable roof. Within seconds, the space shifts from a climate-controlled, glass-enclosed haven to an open-air rooftop, offering the best of both worlds throughout the seasons. This flexibility and design celebrate the neighborhood's dynamic energy creating a genuinely engaging atmosphere. Music is a crucial part of the Starchild experience. The custom Funktion-One sound system delivers an immersive soundscape, complementing the visual feast of disco balls and mirrors that adorn the venue. On weekends, Starchild resonates with the beats of legendary international DJs and promising emerging artists, spinning classic house, funk, soul, and disco tunes. Culinary delights are in abundance at Starchild, with a specialty cocktail service and tantalizing small bites designed to satisfy post-work patrons, theatergoers, locals, and corporate happy hour guests. Their espresso martini menu stands out, featuring five unique and delicious espresso martini concoctions.
Darling at Park Lane New York
PHOTO COURTESY DARLING
Positioned on the 47th floor of Park Lane New York, Darling isn't just any rooftop lounge – it's Central Park South's only one, boasting unbeatable vistas of Manhattan's skyline and the verdant expanse of the iconic park. Darling instantly enthralls with its enchanting atmosphere. Intimate and whimsical, the space features a bold lounge that wraps around an outdoor patio oasis, meticulously designed to showcase the sweeping views. A unique combination of exquisite design, elevated cocktails, and thoughtfully curated programming defines the Darling experience. Inside, you'll discover a sprawling mural by En Viu, a testament to the property's dedication to storytelling through visual artwork. But Darling is more than just a visual treat; it's a delight for the palate as well. Their creative cocktail program is also a must-try, offering an array of imaginative mixed drinks. From Harry's Old Fashioned and Park Lane Margarita to Darling's illustrious Billionaire's Row cocktail, each drink is an experience in itself. While the vistas are at their most spectacular during the day or on dry nights, Darling ensures the ambiance never wanes. With an ongoing DJ series and exclusive events, the mood is always lively, making Darling a perfect spot for a night of drinking and revelry.
LilliStar at Moxy Williamsburg
PHOTO COURTESY LILLISTAR AT MOXY WILLIAMSBURG. IMAGE BY MICHAEL KLEINBERG
Moxy Williamsburg has made a sparkling entry into Brooklyn's dynamic hospitality scene with the Indo-Aussie-inspired LilliStar rooftop bar. This vintage-chic oasis, recently opened earlier this year, exudes an enchantingly playful vibe, showcasing an array of vibrant hues, lush greenery, and whimsical lotus hangings that transport you to a tropical paradise. The bar, curated by Bar Lab Hospitality (the creators behind Broken Shaker), seamlessly encapsulates the borough's creative spirit, making it an irresistible attraction for trend seekers and travel buffs. One of the rooftop's indisputable highlights is its sweeping view, framing the Manhattan skyline, the majestic steel trusses of the Williamsburg Bridge, and the striking Freedom Tower. Regarding their menu, the Buckwheat Noodles, Turmeric Cauliflower, and Guacamole are all great for sharing, and LilliStar's Gnar Gnar tea, a unique twist on the classic espresso martini, is a must-try (you can request they make it without the condensed milk foam to veganize it). All in all, with an extensive outdoor space and a panoramic view, LilliStar has truly redefined the art of rooftop relaxation, making it an approachable yet unconventional retreat in this bustling neighborhood.
RT60 at Hard Rock Hotel New York
PHOTO COURTESY RT60
RT60, the stunning rooftop bar and lounge at the Hard Rock Hotel New York, is a game-changer in the heart of Times Square. Located on the 34th floor, this incredible venue offers an all-encompassing panorama of the city, courtesy of its north and south-facing outdoor terraces. The appeal of RT60 is further magnified by the striking decor, embodying the synergy of modern chic with a rock-n-roll undertone. This hotspot resonates with the pulse of music, embodying the glamor and grit of New York City that influenced iconic artists. As with all Hard Rocks, this hotel pays homage to the music industry, with memorabilia throughout, including pop icons Lady Gaga and Rihanna's boots gracing the ground floor lobby. The design theme extends to RT60, where the rhythm of music permeates every corner, echoed by live DJ sets ranging from undiscovered talents to renowned names. The ambiance at RT60 is aptly suited for a post-work wind-down, with a cocktail menu as eclectic as the city it overlooks. Each drink is crafted to perfection, pairing harmoniously with their selection of tantalizing appetizers. This venue redefines the essence of an 'after-work cocktail,' transforming it into an immersive experience intertwined with the energetic soul of the music world.
Everdene at Virgin Hotels New York City
PHOTO COURTESY EVERDENE AT VIRGIN HOTELS NEW YORK CITY
Everdene, the third-floor terrace at Virgin Hotels New York City, is an extraordinary ode to adaptability and variety. The 4,500 square feet midtown terrace is a visual delight with its glass perimeter railing, diverse seating options, and verdant plantings. The venue, complemented by live music that enhances the vibrant ambiance, is masterfully designed to cater to a plethora of moods and occasions – be it a romantic date night or a lively dance party. The dynamic beverage program mirrors the bold character of the terrace, with cocktails crafted to perfection, while a stunning view of the iconic Empire State Building adds to its allure. The sprawling layout features multiple nooks, each bearing its unique charm – from the sultry shag room to the playful library adorned with color-curated books from Union Square's The Strand and other accessories that pay tribute to the city and the Virgin brand. The vibrant lounge also offers a Sunday brunch experience that's nothing short of spectacular. The Queen Supreme Brunch extravaganza, courtesy of the innovative House of Yes team, brings an electrifying dose of fun and flair to your summer Sundays and showcases the crème de la crème of New York City's live acts, where you can expect dazzling performances from the city's finest burlesque, drag, and cabaret talents. This exciting lineup of entertainers ensures an unforgettable, dynamic atmosphere that stands out from your standard brunch fare.
ART SoHo at Arlo SoHo
PHOTO COURTESY ART SOHO
ART SoHo entices you with its blend of trendy sophistication and laid-back comfort, creating an inviting and exclusive atmosphere. Its chic aesthetic and breathtaking city views, including the Freedom Tower, set the perfect backdrop for any social gathering. Positioned atop Arlo SoHo, hence the acronym "ART," for "Arlo Roof Top," this venue presents beautiful views of New York's famed skyline, allowing patrons to bask in the city's charm from a unique vantage point. The panoramic views, featuring glimpses of the Hudson River, add an enchanting element to the overall experience. The cocktail offerings at ART SoHo are as diverse and delicious as the city it overlooks. Each drink is expertly crafted and aesthetically presented, with a menu that effortlessly blends classic staples with innovative creations. Adding to the appeal is the well-curated selection of bites. ART SoHo caters to every mood, whether it's a relaxed evening with friends, a date night, or a solitary moment of indulgence. Open weekdays from 4 p.m. and at noon on weekends for brunch, the venue keeps the excitement alive with seasonal events throughout the week, such as their Tuesday Fiesta Nights, Saturday DJ Series, and the Sunday Brunch Party, promising an unforgettable New York rooftop bar experience, but keep in mind, table reservations are highly recommended.
The Fleur Room at Moxy Chelsea
PHOTO COURTESY THE FLEUR ROOM AT MOXY CHELSEA
The Fleur Room at Moxy Chelsea is a true gem, offering an immersive experience. It's not just the stunning Empire State Building views that catch your attention; it's the thoughtful blend of decadent botanical design and Italian romanticism that sets it apart. Located 35 stories high in the heart of Chelsea's Flower District, The Fleur Room is a secret garden in the urban jungle. Natural light floods the space, giving life to the rich floral fabrics and copper-clad bar. The pièce de résistance, a giant water droplet chandelier, illuminates the room with an ethereal glow, beautifully complemented by the massive vintage disco ball that once dazzled at the infamous Los Angeles club, Vertigo. Despite its midtown location, the Fleur Room attracts a chic downtown crowd, creating a vibrant atmosphere; to get a table here, reservations in advance are highly recommended. The staff, dressed in floral-inspired ensembles, further enhances the space's aesthetic. Another standout feature of this glass-enclosed lounge is its ability to transform into an open-air sky veranda. This unique attribute amplifies the breathtaking 360-degree views, extending from the Statue of Liberty to the Empire State Building, making it a favorite spot for both celebrity patrons and city locals.
elNico at Penny Williamsburg
PHOTO COURTESY ELNICO AT PENNY WILLIAMSBURG. IMAGE BY ALICE GAO
Perched atop Penny Williamsburg, the newly opened elNico stands as a fresh rooftop bar and restaurant, providing guests with a lively Mexican culinary experience, curated drinks, and unforgettable moments. The elegant dining room and terrace, open for dinner and drinks daily, will surely mesmerize you with the panoramic vistas of the Brooklyn and Manhattan skyline. The culinary mastermind behind elNico's inventive menu, Chef Fer Serrano, channels her deep Mexican roots and global kitchen experiences into each dish. Her menu is an intriguing fusion of cherished family recipes enriched by exotic ingredients and innovative techniques from her illustrious career. Though the menu is filled with enticing Mexican favorites, their mouth-watering guacamole served with totopos is a standout and a table must-order. The cocktail program features fresh, seasonal flavors crafted from locally sourced ingredients. With a particular emphasis on agave-based spirits, the drinks menu offers timeless classics and a diverse wine selection. The Café De Olla – elNico's unique take on the espresso martini – is a highly recommended order for caffeine lovers. A unique non-alcoholic offering is their on-tap sparkling water – a rare but appreciated detail. The restaurant's ambiance is further enhanced by its vibrant green and yellow color scheme and various plants scattered throughout, creating a lively and welcoming environment.
5 o'Clock Somewhere Bar at Margaritaville Resort Times Square
PHOTO COURTESY 5 O'CLOCK SOMEWHERE BAR
The 5 o'Clock Somewhere Bar at the Margaritaville Resort in Times Square effortlessly captures the perpetual merriment of the Margaritaville brand! Nestled on the 31st and 32nd floors of the resort, this delightful venue offers its patrons breathtaking views of the pulsating city of New York. From the iconic New Year's Eve Ball to the serene Hudson River, the panorama from this rooftop is nothing short of spectacular. Whether searching for a quick snack before a Broadway show, craving a meticulously crafted cocktail, or simply seeking a refuge to unwind after a hectic day at work, the 5 o'Clock Somewhere Bar caters to all your needs. It's an enchanting haven where the clock always strikes five, and the good times never cease. This place is not just a bar; it embodies the city's vibrant spirit and is a destination that every NYC visitor should include on their must-visit rooftop list.
The Ready Rooftop at Moxy East Village
PHOTO COURTESY THE READY ROOFTOP BAR AT MOXY EAST VILLAGE. IMAGE BY MICHAEL KLEINBERG
The Ready Rooftop Bar, nestled in the vibrant heart of New York's renowned East Village, embodies a convivial yet polished charm, offering visitors a sanctuary from the frantic pulse of the city. With its quirky design and distinctive food and drink menu, this rooftop bar perfectly captures the laid-back essence of a coveted New York City backyard. Framed by retractable glass walls and a rooftop, The Ready Rooftop Bar offers an uninterrupted, year-round panorama of the East Village and beyond. Its design exudes a distinct beer garden vibe, highlighted by features like bar shelves comprising a vibrant collage of multicolored crates and a hand-painted mural by En Viu. This artistic tribute overlays portraits of the neighborhood's legendary figures onto a map of the East Village, giving patrons a taste of the local history. The space balances a friendly, relaxed ambiance and a sense of sophistication, with the bar serving up an impressive variety of frozen cocktails and tantalizing tacos. Expect a more youthful demographic here, an unsurprising aspect of its East Village location. Adding to the visual spectacle of the venue is the stunning view of the Freedom Tower, which can be enjoyed from pretty much every area of the rooftop.
Tatau Pool Lounge & Bar at Hotel Indigo Williamsburg
PHOTO COURTESY HOTEL INDIGO WILLIAMSBURG. IMAGE BY DAVID CHOW
Hotel Indigo Williamsburg, an integral part of the IHG Hotels & Resorts portfolio, boasts a stunning pool, deck, and terrace offering breathtaking vistas of both Brooklyn and Manhattan on their newly revitalized Tatau Pool Lounge & Bar. Ensconced in tranquility on the fourth-floor terrace, you'll discover a unique, elongated pool design, blending ample space and serene environs with panoramic views of the neighboring landscape. This rooftop retreat offers a refreshing alternative to the city's more frenetic pool experiences, ensuring an atmosphere that hums with vitality, underscored by music and seasonal culinary delights. Expertly crafted by Bushwick's renowned interior design firm, Cl-oth Interiors, the hotel's pool terrace features a chic bar & lounge, bridging the gap between classic and contemporary aesthetics. This space mirrors Williamsburg's own metamorphosis from an industrial powerhouse to a bustling cultural hotspot. Open daily from 10:00 a.m. to 6:00 p.m., with the exception of private events, the pool provides an exclusive retreat for hotel guests, its access included in their stay. The general public can also experience this idyllic setting by purchasing individual daily passes starting at $100 for weekdays and $150 for weekends.
The Lookup at the Kixby
PHOTO COURTESY THE LOOKUP AT THE KIXBY
The Lookup, located atop the Kixby, has made a recent – and triumphant – return to New York's rooftop scene for the first time since 2019. With the illustrious Empire State Building serving as its dramatic "backyard," this rooftop bar promises a captivating experience. The creative minds behind the acclaimed Black Tap Craft Burgers & Beer, Julie Mulligan and Chris Barish, have collaborated with the Kixby to bring The Lookup rooftop to life. This partnership aims to offer an experience that balances sophistication and relaxation. The bar's menu, a stunning ensemble of smart bar bites and innovative cocktails, is a testament to the expertise of renowned mixologist Pamela Wiznitzer, formerly of Seamstress and The Dead Rabbit, alongside Black Tap's Beverage Director, Christian Orlando, ensuring the cocktail creations at The Lookup are nothing short of extraordinary.
PHD at the Dream Downtown Hotel
PHOTO COURTESY PHD ROOFTOP LOUNGE AT THE DREAM DOWNTOWN
Residing at the heights of the vibrant Dream Downtown hotel, PHD Rooftop Lounge is an exquisite destination that promises a captivating fusion of stunning vistas, sumptuous bites, and delectable cocktails. Offering panoramic views of the Hudson River and the iconic Empire State Building, the 12th-floor lounge is a mesmerizing observation point that captures the city's skyline in all its glory. Equipped with two full-service bars and a fully operational DJ booth, PHD boasts a youthful yet upscale and exhilarating atmosphere. This timeless rooftop lounge and nightclub is resplendent in luxurious touches, including rich Italian Portoro marble, Macassar ebony, nickel-finish walls, and glimmering amber Venini glass chandeliers, ensuring guests have multiple areas for an Instagram-worthy post. The confluence of these elements fosters an atmosphere of refined elegance, encapsulating the quintessential New York City spirit on this rooftop. PHD seamlessly blends style, service, and vibrant nightlife, making it a destination that simply cannot be overlooked.
Westlight at The William Vale
PHOTO COURTESY WESTLIGHT AT THE WILLIAM VALE
Perched on the 22nd floor of The William Vale, Westlight is a rooftop bar that strikes the perfect balance between elegance and vibrancy. Under the expert stewardship of James Beard award-winning Chef Andrew Carmellini's NoHo Hospitality Group, the bar presents an exciting menu featuring a selection of snacks inspired by global street food and artisan cocktails, including refreshing takes on classics like the Spicy Sunset margarita and the Mezcal Julep. The Vale Cinema Series, featuring monthly film screenings one floor up at the Turf Club rooftop, will kick off on June 26 to celebrate Pride with a Hedwig and the Angry Inch screening. The cinema series allows guests to savor movie-inspired snacks and specialty drinks while reclining on the lawn or in comfortable lounge seats, all against the backdrop of NYC's iconic skyline. Downstairs at the Vale Pool, where the views are just as stunning, you can enjoy delightful poolside refreshments, relax on comfortable cabanas and loungers, or take a refreshing plunge in Brooklyn's longest outdoor hotel pool. Limited day passes are available for non-hotel guests.
The Highlight Room in the Lower East Side.
Say it loud. No, louder! No, like, screaming-from-the-rooftop loud: It's Rooftop Season! Hopefully, this means you've budgeted enough to last you through the spring and summer for all that New York City's rooftop bars, restaurants, and clubs have to offer its locals and visitors.
Below are rooftop bars you may already know and love, or new spaces that could come with new faces, mostly throughout Manhattan, with some Brooklyn and Queens spots mixed in. While this is by no means an exhaustive list of all the rooftop bars in New York City, it's a jumping-off place, or perhaps places you've already revisited but have since remodeled or been revamped since you've last been.
Knickerbocker Hotel's St. Cloud Rooftop, Midtown
What: The ultimate rooftop bar atop The Knickerbocker Hotel with three plush corner Sky Pods overlooking Times Square, stylish indoor and outdoor seating options and new furniture, the exclusive Waterford Crystal Lounge, an ultra-luxe private room, and lush living walls of greenery.
Where: The Knickerbocker Hotel, 6 Times Square 17th Floor, New York, NY 10036
Hours: Daily, 4 p.m. – 11 p.m.
The Highlight Room, Lower East Side
What: Glamorous all-season rooftop bar evoking a 19th-century garden with foliage and tree, floating 16 stories above the Lower East Side, with vantage points of the bridges and Empire State Building.
Where: Moxy Lower East Side, 145 Bowery, New York, NY 10002
Hours: Tuesday, 5 p.m. – 1 a.m., Wednesday – Saturday, 5 p.m. – 4 a.m., Sunday, 5 p.m. – 12 a.m.
Starchild Rooftop Bar & Lounge, Hell's Kitchen
What: Rooftop with two outdoor patios and retractable rooftop with a panoramic view of Midtown and the Hudson River.
Where: 305 West 48th Street, New York, NY 10036
Hours:Monday – Wednesday, 5 p.m. – 12 a.m., Thursday- Saturday, 5 p.m. – 2 a.m., Sunday, 5 p.m. – 10 a.m.
The Crown, Chinatown
What: Rooftop bar located on the 21st floor of Hotel 50 Bowery with unobstructed views of both the Manhattan and Brooklyn skylines, either indoors or outdoors.
Where: 50 Bowery, New York, NY 10013
Hours: Monday – Thursday, 4 p.m. – 12 a.m., Friday 4 p.m. – 2 a.m., Saturday & Sunday, 2 p.m. – 12 a.m.
Somewhere Nowhere, Chelsea
What: Whimsical, garden-inspired two-level indoor and outdoor venue with open-air rooftop pool and Manhattan skyline views at the top of the new Marriott Renaissance Chelsea Hotel offering a decadent lounge, and international and local DJs.
Where: Renaissance Chelsea Hotel, 112 West 25th Street, 38th/39th floor, New York, NY 10001
Hours: Monday & Tuesday, 10 a.m. – 10 p.m., Wednesday, 10 a.m. – 1 a.m.. Thursday & Friday, 10 a.m. – 4 a.m., Saturday & Sunday, 10 a.m. – 4 a.m.
Magic Hour Rooftop Bar & Lounge, Midtown
What: Largest indoor and outdoor all-season hotel rooftop perched 18 floors above New York City with a fully retractable roof and two indoor and outdoor main areas including a miniature putt-putt course
Where: Moxy NYC Times Square, 485 7th Ave 18th floor, New York, NY 10018
Hours: Monday – Wednesday, 3 p.m. – 12 a.m., Thursday, 3 p.m. – 2 a.m., Friday, 3 p.m. – 4 a.m., Saturday, 11:30 a.m. – 4 a.m., Sunday, 11:30 a.m. – 12 a.m.
Ophelia, Midtown
What: Art Deco-inspired cocktail lounge with indoor and outdoor wraparound patio boasting panoramic views of Midtown and Brooklyn, located on the 26th floor of the historic Beekman Tower.
Where: Beekman Tower, 3 Mitchell Pl 26th floor, New York, NY 10017
Hours: Monday – Wednesday, 5 p.m. – 11 p.m., Thursday, 5 p.m. – 12 a.m., Friday & Saturday, 5 p.m. – 2 a.m., Sunday, 5 p.m. – 11 p.m.
LilliStar, Williamsburg
What: Indoor-outdoor rooftop lounge and cocktail bar at the Moxy Williamsburg blending contemporary Indo-Aussie style with Brooklyn energy offering stunning, unobstructed views of the Williamsburg Bridge, East River, and Lower Manhattan.
Where: 353 Bedford Avenue, 11th Floor, Brooklyn, NY 11211
Hours: Monday – Friday, 4 p.m. – 11 p.m., Saturday & Sunday, 12 p.m. – 12 p.m.
The Press Lounge, Hell's Kitchen
What: Perched 16 stories above its sister venue, PRINT Restaurant, The Press Lounge offers breathtaking views of the Manhattan skyline and Hudson River year-round.
Where: 653 11th Ave, 16th Floor, New York, NY 10036
Hours: Monday & Tuesday, 5 p.m. – 1 a.m., Wednesday – Saturday, 5 p.m. – 2 a.m., Sunday, 5 p.m. – 12 a.m.
Haven Rooftop, Midtown
What: Located on top of the Sanctuary Hotel in New York City's world-class Theater District and the heart of Time Square, Haven Rooftop offers guests a chance to indulge in Manhattan's Midtown views while enjoying modern American cuisine and craft cocktails.
Where: Sanctuary Hotel, 132 West 47th Street, New York, NY 10036
Hours: Monday – Friday, 12 p.m. – 11 p.m., Saturday & Sunday, 11 a.m. – 11 p.m.
ART NoMad, Nomad
What: Rooftop spot with "sky walk" glass floor sitting 31 stories in the sky atop Arlo NoMad with Middle Eastern small bites and breathtaking views of the Empire State Building.
Where: 11 East 31st Street, New York, NY 10016
Hours: Tuesday – Saturday, 4 p.m. – 12 a.m., Sunday – Monday, 4 p.m. – 10 p.m.
Bar Cima, Midtown
What: Sophisticated and seductive rooftop tequileria with breathtaking views of the Empire State Building and both the East and Hudson Rivers, from local group Apicii with support from consulting master mezcalier Courtenay Greenleaf.
Where: Grayson Hotel, 28th Floor, 30 West 39th Street, New York, NY 10018
Hours: Tuesday – Thursday, 4 p.m. – 12 a.m., Friday & Saturday, 4 p.m. – 1 a.m.
elNico, Williamsburg
What: Modern rooftop bar and restaurant serving classic Mexican fare with sweeping views of Manhattan and Brooklyn skylines at Penny Williamsburg — featuring art collective by local neurodivergent artists — that shares building with Bard College
Where: The Penny Williamsburg, 288 North 8th Street, Brooklyn, NY 11211
Hours:Sunday & Monday, 5:30 p.m. – 10 p.m., Tuesday & Wednesday, 5:30 p.m. – 11 p.m., Thursday – Saturday, 5:30 p.m. – 12 a.m.
Hard Rock Hotel New York's RT60, Midtown
What: Show-stopping bar & lounge in the heart of Times Square with two outdoor terraces on the 34th floor of RT60 that offer north- and south-facing city views.
Where: Hard Rock Hotel New York, 159 West 48th Street, New York, NY 10036
Hours: Sunday – Wednesday, 4 p.m. – 12 a.m., Thursday – Saturday, 4 p.m. – 2 a.m.
The Lookup, Midtown
What: Rooftop bar on Kixby that reopened its doors since closing in 2019 with a stunning backdrop of the Empire State Building.
Where: 45 West 35th Street, New York, NY 10001
Hours: Sunday – Wednesday, 4:30 p.m. – 12 a.m., Thursday – Saturday, 4:30 p.m. – 1 a.m.
Bar Harta, Midtown
What: Al-fresco wine and tapas terrace with a lush outdoor setting and a relaxed atmosphere, inspired by the convivial wine culture across the Western Mediterranean.
Where: 30 West 39th Street, 2nd floor, New York, NY 10018
Hours: Daily, 7 a.m. – 10 p.m.
ROOF at Park South, Nomad
What: Stylish rooftop open from April through November surrounded by unobstructed view of the Manhattan's North-eastern skyline.
Where: 125 E 27th St, New York, NY 10016
Hours: Sunday & Monday, 5 p.m. – 10 p.m., Tuesday – Thursday, 5 p.m. – 11 p.m. Friday & Saturday, 5 p.m. – 12 a.m.
The Dominick's Terrace on 7, Soho
What: Relaxing resort-style oasis featuring stunning views of the Soho skyline and Asian-Hawaiian culinary concepts with outdoor pool, cabanas, and poolside spa treatments that share a floor with newly-launched Sisley-Paris Spa.
Where: 246 Spring Street, New York, NY 10013
Hours: Daily, 6:30 a.m. – 10:30 p.m.
NoMo SoHo's The Penthouse, Soho
What: NoMo SoHo hotel's newest open-air terrace and event space on the 26th floor with downtown and midtown Manhattan views. Fitness enthusiasts and beginners can find weekly wellness classes including kettlebell workouts, muay thai, sound baths, and power yoga.
Where: 9 Crosby Street, New York, NY 10013
Hours: By appointment/event.
The Rockaway Hotel Rooftop, Rockaway Beach
What: Located on the Rockaway Hotel's 6th floor, The Rooftop is an indoor-outdoor space that offers guests unprecedented sweeping views of the Manhattan skyline, Jamaica Bay, and the Atlantic Ocean.
Where: 108-10 Rockaway Beach Drive, Queens, NY 11694
Hours: Thursday – Saturday, 4 p.m. – 9 p.m., Bar remains open later, Sunday, 2 p.m. – 9 p.m.
TWA Hotel's Rooftop Pool, Queens
What: Rooftop and pool on top of the TWA Hotel with 10,000-square-foot observation deck, based on the classic 1960s surfing documentary "Endless Summer" with small bites and aviation-themed summer drinks. Visitors can watch planes taking off and landing just beyond the hotel.
Where: TWA Hotel One, Idlewild Drive JFK Airport, Jamaica, NY 11430
Hours: Daily, 11 a.m. – 11 p.m.
We're now a few years into the full-fledged espresso martini revival, and there's little sign of the trend slowing down (sure, Eater, it's "dead." Ask any slammed bartender on a Saturday night for confirmation). And while there's definitely nothing wrong with the classic combo (vodka, espresso, coffee liqueur), maybe you're seeking something a little different. Something new.
Swapping Base Spirits & Sweet Dessert Options
While bars continue to serve the classic with pleasure, bartenders are starting to get frisky and play with core ingredients. At The Press Room in Chicago, managing partner Cristian Mendoza suggests swapping out the vodka for Cognac, creating a unique, rich flavor profile. Meanwhile Jeremiah Duncan, beverage manager at Wood (also in Chicago) has replaced hot fresh-pulled espresso for La Colombe cold brew which is more concentrated and viscous, resulting in an even more "velvety" drink. At the new San Francisco restaurant Bar Sprezzatura, you'll find two trends in one: The inventive Italian spot's espresso martini features Galliano Ristretto, vodka, espresso, and porcini mushroom extract partnered with a chocolate biscotti. Or wander a dozen blocks to Polk street and stumble into Macondray, for their creamy dessert version, which features Humboldt Distillery vodka, Philz coffee, hazelnut liqueur, coconut milk and a sprinkling of old-school Folger's ground coffee for the garnish. And in Manhattan, the Starchild Rooftop Lounge atop the Civilian Hotel, you'll find a whole section of the menu dedicated to espresso martini riffs featuring different base spirits, coffee liqueurs and mixers. The most fun (and grammable) option might be The Llama, combining Velvet Llama Nitro Espresso Martini, vanilla saffron gelato, black salt and a "burst rainbow piñata" (a vibe created by colorful sprinkles).
Vodka, Nocino, Cognac & Port
Sometimes all it takes is just a little twist to get you to revisit a staple and go "hmmm!" At the expansive Rooftop L.O.A. in Atlanta, the bar infuses vodka with fresh coffee for an extra kick in their signature espresso martini. It's then mixed up with fresh-pulled espresso, St. George coffee liqueur, and Demerara syrup, and presented in an elegant coupe. Sipped outdoors with 360-degree views and Atlanta's festive bar crowd, and you've got a perfect combination. Atlanta may, in fact, be a hub of innovation for the cocktail: At Lazy Betty guests are given an option of three base spirits: Good Vodka, El Salto Mezcal, or Pierre Ferrand Cognac. "Good Vodka is distilled from coffee fruit," says bar manager Conrad Helms. "The fruit is considered to be a waste product, so each bottle of Good Vodka is actually carbon negative, and works inherently well with coffee-based drinks." The cocktail also incorporates Manly Brews Coffee Liqueur and cold brew concentrate, Dow's 10-year port and Nocino, an Italian walnut liqueur. "A lot of places will use what's familiar," notes Helm of his rebellious drink.
Finding The Perfect Coffee Liqueur
These days, there is a never-ending reservoir of emerging coffee liqueurs (see Manly Spirits above) with which to ramp up your 'tini. Of course, Kahlua and Mr. Black are the two go-tos, but if you want to try something new, you can't go wrong with Luxardo's Espresso Liqueur (27% ABV, $25), introduced last November. Or consider Up & At 'Em, a new contender from You & Yours Distilling out of San Diego. It starts with a vapor-distilled grape base, which is then infused with fresh orange peels, cinnamon and vanilla bean pods, before being steeped into a cold brew with fresh coffee grounds. And Saxtons River Distilling in Vermont, which specializes in maple-flavored whiskeys, has introduced Perc Coffee Liqueur (30% ABV, $35) it features locally roasted and cold-brewed Arabica beans infused with cane sugar for a sweetened coffee liqueur with a mocha vibe.
RTD Espresso Martinis
Naturally, the ready-to-drink market is on top of the cocktail's ongoing popularity. Golden Rule Spirits launched their canned espresso martini last fall, the third in the brand's canned cocktail lineup. Made in Ventura, California, the drink (24% ABV, $20/4-pack) features vodka, Equator Coffee's Tigerwalk espresso, cinnamon, vanilla liqueur and chicory root for a full-flavored experience. Bols, a Netherlands-based spirits brand well-known for its flavored liqueurs and genever, has what they call "Ready to Enjoy" packaged cocktails, including espresso martini, in inventive (and easily packed) 200ml tubes (14.9% ABV, $25 / 4 tubes).
And Tip Top Proper Cocktails (22% ABV, $40/8-pack) launched their canned version with a particularly inventive spin: Pour it into a cocktail shaker with ice, shake and strain into a martini glass, and you'll increase your bar's or bar-b-cue's productivity, while guests still feel like you put some work into their drink.
10 Espresso Martini Recipes
Ready to try something new on the Espresso Martini front? Never fear: bartenders have got your back. Across the country, bars are adding riffs, upgrades, experiments, and "what-the-hecks" to menus. Whether it's swapping out the vodka for another spirit, adding aperitifs or other mixers, going zero-alcohol, or straight up defying the odds, you'll find something to love below.
Coco Espresso Martini
Courtesy of Jimmy SoHo NYC
2 oz Reyka Vodka
1.5 oz Borghetti Espresso
1 oz Mr Black Coffee
.5 oz coconut milk
.5 oz simple syrup
Combine all ingredients in a cocktail shaker with ice. Shake well and strain into a Martini glass. Garnish with three espresso beans.
Italian Espresso Martini
Courtesy of Montesacro, San Francisco
1 oz grappa
1 oz Mancino Vermouth Amaranto
.75 oz Galliano Ristretto
.75 oz espresso
.25 oz banana cordial
Hazelnut soft whipped cream
In a cocktail shaker filled with ice, combine all ingredients except the cream. Shake well and strain into a coupe or large cordial glass. Top with a dollop of chilled soft-whipped cream. Garnish with a single espresso bean.
Cut Above Mezcal Molé Martini (Zero Alcohol)
2 oz Cut Above Mezcal
2 oz cold brew coffee concentrate
.5 oz maple syrup
2 dashes molé bitters
Combine all ingredients in a cocktail shaker filled with ice. Shake well and strain into a martini glass. Garnish with three coffee beans.
Pick Me Up
Courtesy of Luis Hernandez, Hotel Henri NYC
1 oz Jim Beam Black
1 oz Mr Black Cold Brew Coffee Liqueur
.75 oz espresso
.25 oz sesame ash
.25 oz bitter chocolate syrup
2 dashes Angostura Bitters
Combine all ingredients in a cocktail shaker with ice. Shake and strain into a rocks glass. Garnish with cocoa nib powder and sesame ash (ground sesame seeds)
Chipotle Espresso Martini
Courtesy of El Leon at the King Christian Hotel, Christiansted, St Croix
1 oz Milagro Tequila
1 oz Mr Black Liqueur
.5 oz Ancho Reyes Liqueur
.5 oz Baileys Irish Cream
1 oz cold brew coffee
4 dashes Bittercube Chipotle Cacao bitters
Combine all ingredients in a cocktail shaker filled with ice. Shake well and strain into a coup glass. Garnish with three espresso beans.
Perc Of Art
Courtesy of Chelsea Solkowski, Craft Mixologist for Saxtons River Distillery Vermont
1 oz Perc Coffee Liqueur
.5 oz Saxtons Maple Liqueur
2 oz vanilla vodka
1 oz espresso
Grated cinnamon for garnish
In a cocktail shaker with ice, combine all ingredients except cinnamon. Shake well ("more than you think it should), and strain into a martini glass or coupe. Garnish with a sprinkle of cinnamon. OPTIONAL: Top with a dollop of maple whipped cream.
Absinthe Espresso Martini
Courtesy of Palette, San Francisco
1 oz Pernod Absinthe
.5 oz vodka
.75 oz Mr Black Coffee Liqueur
.5 oz sweetened cold brew
1 fresh pulled double espresso
In a cocktail shaker filled with ice, combine all ingredients. Shake well and strain into a martini glass. Garnish with three espresso beans.
Tiramisu Tini
Courtesy of Tony Roehr, Raised by Wolves, San Diego
1.5 oz Mr Black Cold Brew Coffee Liqueur
1 oz Diplomatico Exclusiva Reserva Rum
.5 oz aquavit
.25 oz cinnamon syrup
Whipped cream
Cocoa powder for garnish
Combine all ingredients, except for whipped cream and cocoa powder, in a cocktail shaker filled with ice. Shake well and strain into a coupe glass. Top with whipped cream float and garnish with cocoa powder.
Storico Espresso Martini
Courtesy of Storico Vino, Atlanta, Georgia
1.5 oz Borghetti Espresso Liqueur
.5 oz Santa Teresa 1796 Rum
.5 oz Grey Goose Vodka
.5 oz Hoodo Chicory Liqueur
1 oz fresh espresso
.25 oz espresso-demerara syrup
Combine all ingredients in a cocktail shaker filled with ice. Shake well and strain into a coupe glass. Garnish with three espresso beans. According to the restaurant, the "rum enhances the flavors of the Italian coffee, and chicory liqueur helps balance the bitter notes, while making it not too sweet."
Vietnamese Espresso Martini
Dan Q. Dao, District One Studios. Note: phin is the Vietnamese brewing tool
2 oz Sông Cái Floral Gin (read more about Sông Cái in our story on global gins)
1 oz phin-brewed Vietnamese coffee (like Nam Coffee)
1/2 oz Mr Black Coffee Liqueur
1/2 oz condensed milk or nut milk
Combine all ingredients in a cocktail shaker with ice, shake well and strain into a martini glass. Garnish with three coffee beans.
Starchild
Las Vegas glam has landed in NYC at Starchild, the recently opened rooftop lounge from Sin City's acclaimed Carver Road Hospitality. Whether you're looking for civilized cocktails (and caviar) or a jumpin' late-night party scene, head to the 27th floor of the Civilian Hotel for sweeping views and strong sips inside a convertible terrace. Considering the fact that it's already gotten a stamp of approval from Leonardo DiCaprio, you can be sure you'll be in very stylish company.
Starchild, 305 W 48th St.
The Highlight Room
Supplying indoor-outdoor views for year-round revelry, The Highlight Room is a new downtown destination bringing the greenhouse vibes to the 16th floor of the buzzy Moxy Lower East Side. Inspired by the German Winter Garden that stood along the Bowery in the mid-18th century, the 2,000-square-foot hot spot from Tao Group boasts bold foliage swaying from the ceiling and a sprawling tree spreading its branches over the luxe lounge areas. The space glitters with a smattering of chandeliers and an al fresco backdrop of city lights stretching to the Empire State Building and beyond.
The Highlight Room, 145 Bowery
[Photo via The Highlight Room]
Everdene & The Pool Club
At the recently debuted and much buzzed-about Virgin Hotel NYC, you'll find two elevated outdoor haunts to bask in the sunlight – and moonlight – this season. First there's Everdene, an expansive all-in-one watering hole on the third floor which combines rock star glam with British charm, featuring a weekly lineup of live music and DJs, as well as a massive al fresco terrace with a front-row view of the Empire State Building.
Up a flight of stylish red stairs, you can dive right into the fun at the Pool Club, Virgin Hotel's splashy roof deck boasting, as its name suggests, a large pool and indoor-outdoor bar areas serving up boozy ice pops, craft cocktails, and refreshing light bites. We can guarantee it'll be the hottest spot to cool down this summer. Everdene & The Pool Club, 1227 Broadway
LilliStar
Over at the brand new Moxy Williamsburg Hotel, you're in for a serene treat at LilliStar, the just-debuted rooftop lounge from Bar Lab Hospitality, the team behind the award-winning Broken Shaker. The whimsical space is inspired by Bali, lit by lanterns and hanging with giant lotus flowers. Dramatic views of the Williamsburg Bridge serve as the perfect backdrop for a night spent sipping on innovative cocktails by acclaimed beverage director Christine Wiseman, who was just named this year's Best Bartender in North America. Cheers to her!
LilliStar, 353 Bedford Ave., Brooklyn
[Photo courtesy LilliStar]
Darling
Towering above Central Park South, Darling is the elevated hideaway atop the recently revamped Park Lane Hotel. Considering the fact that it's the only high-up watering hole on the strip famously dubbed "Billionaire's Row," the spot offers, as expected, a true wealth of riches. Sip like a socialite on the 47th floor, surrounded by Art Deco style opulence, bold accents, and plush canopied seating inspired by the iconic horse carriages in the park below. The gilded space feels like the secret garden of a grand estate, featuring a whimsical floral mural, vibrant greenery, and, of course, a wraparound patio providing stunning views of Central Park and the surrounding city skyline.
Darling, 36 Central Park South
[Photo via Darling]
Jimmy SoHo
The reimagined JIMMY rooftop lounge has been a Soho mainstay for over 10 years. When you take a look around, it's not hard to see why. Perched 18 stories atop the ModernHaus SoHo hotel, the indoor-outdoor hot spot boasts breathtaking views of One World Trade Center, the downtown skyline, and the Hudson River – as well as a consistently cool crowd. Sip frosé at sunset and try to resist jumping in the pool (oh yeah, and there's a pool).
JIMMY SoHo, 15 Thompson St.

Nubeluz
For a nightcap moment that's sure to impress, head 50 stories up to The Ritz Carlton New York, NoMad's rooftop spot, Nubeluz. Envisioned as "a lightbox in the sky," the swanky and sophisticated watering hole boasts glittering mirrored accents, back-lit marble panels, and shiny onyx bar tops. Whether you opt for an al fresco seat on the terrace or nestle inside the luxurious lounge, you're in for an elevated experience (no pun intended) with a lineup of innovative libations from Miguel Lancha and a selection of signature bar bites courtesy of Chef José Andrés.
Nubeluz, 25 W 28th St.
The Rooftop At Selina Chelsea
Decked out in greenery, florals, and colorful Tulum-inspired décor, the rooftop at the Selina Hotel in Chelsea provides all the vacation vibes right here in the city. Indulge in healthy-ish bites like the Garden Guacamole and the shrimp and octopus ceviche while toasting holistic cocktails that combine mezcal and tequila with fresh, seasonal ingredients. No one needs to know you skipped the flight to Mexico.
The Rooftop at Selina Chelsea, 518 W 27th St.
The Ready Rooftop Bar
Get ready for The Ready, the new-ish rooftop bar atop the Moxy East Village. With colorful decor, a hand painted mural, string lights, and mix-and-match tableside coolers filled with cans of local brews, the watering hole boasts laid-back vibes reminiscent of a backyard bash. In addition to beer and booze offerings including frozen cocktails, The Ready serves up a selection of gourmet bar snacks (truffle chips, anyone?) and freshly made-to-order tacos, ranging from chicken tinga to crispy pork carnitas.
The Ready Rooftop Bar, 112 E 11th St.
[Photo via The Ready]
Daintree
Pull up a front row seat to the towering Empire State Building at Daintree, the plush penthouse lounge at Chelsea's Hotel Hendricks. There's an entire section on the drinks menu dedicated to martinis (yes, please!), a selection of natural wines from around the world, and all the oysters you can throw back this spring and summer. Not to mention a smattering of chic rattan seats and plush lounges to sit back and sip in.
Daintree, 25 W 38th St.
Westlight
Head up to the 22nd floor of the William Vale Hotel for an evening at Westlight. This swanky spot soars above Williamsburg, serving up stunning skyline views of Manhattan along with creative libations and snacks dreamed up by Chef Andrew Carmellini. Sit back and bask in the stylish atmosphere livened up by pumping tunes, and indulge in everything from charred octopus skewers to duck carnitas tacos while taking in the scene.
Westlight, 111 N 12th St., Brooklyn
[Photo via Westlight]
Bar Blondeau
Perched on the 6th floor of Williamsburg's Wythe Hotel, this swanky French-style wine bar and eatery has it all. Completely unobstructed views of the Manhattan skyline on its recently opened al fresco terrace, a seafood-forward menu of small plates with a decidedly European bend, and a cocktail menu brimming with creative takes on classic signature sips, frozen drinks and plenty of zero proof options that are anything but boring.
Bar Blondeau, 80 Wythe Ave., Brooklyn
The Roof At PUBLIC
Ian Schrager's PUBLIC Hotel is set to be as sizzling as ever this season. After dinner at its vibrant Peruvian eatery, Popular, make sure to grab a drink at the hotel's lush rooftop lounge, where a large landscaped terrace filled with greenery offers a panoramic scene of the skyline and a sexy late-night crowd. With a lineup of global DJs hitting the decks at the adjacent "micro-club," the spot is a guaranteed good time for views and grooves.
The Roof at PUBLIC, 215 Chrystie St.
Here are a few place in NYC that are excited to host Kentucky Derby-themed happenings and specials in celebration of the races.
Refinery Rooftop
It's time to grab your seersucker blazers, floral dresses, bright pastels, and wide-brimmed hats as the Refinery Rooftop saddles up with its annual Kentucky Derby Party viewing party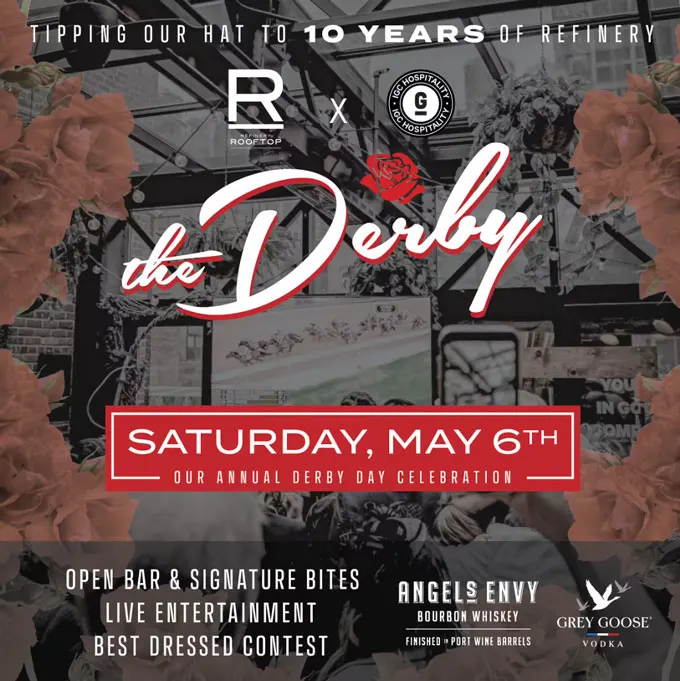 On Saturday, May 6th (3:30 pm – 7:00 pm ET), attendees can channel their Derby-est look and join in on the following:
Open bar
Passed appetizers and desserts
Live entertainment and streaming of the Derby
A contest for the best dressed Derby outfit
The highly-anticipated event also features a signature cocktail created specifically for this event, live DJ's and music, and hours of Derby fun.
Civilian Hotel
Celebrate the Kentucky Derby on May 6th in your best derby attire at Starchild Rooftop and Rosevale Kitchen and Cocktail Room located at the Civilian Hotel in Hell's Kitchen. Mint Juleps, shareable cocktails and food specials will be available beginning at 5pm at Starchild Rooftop and from 9pm-11pm as well as Live Jazz at Rosevale Kitchen.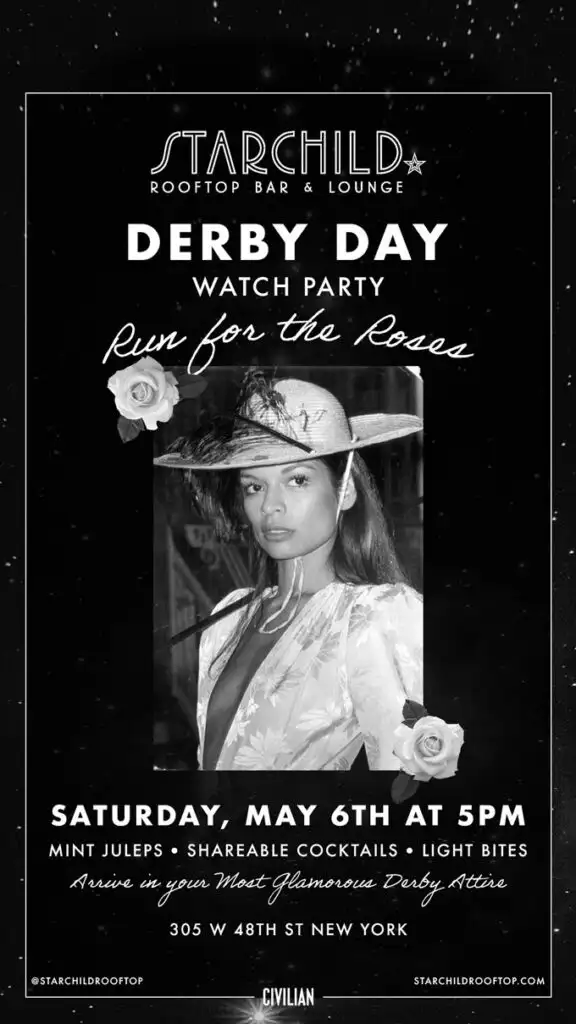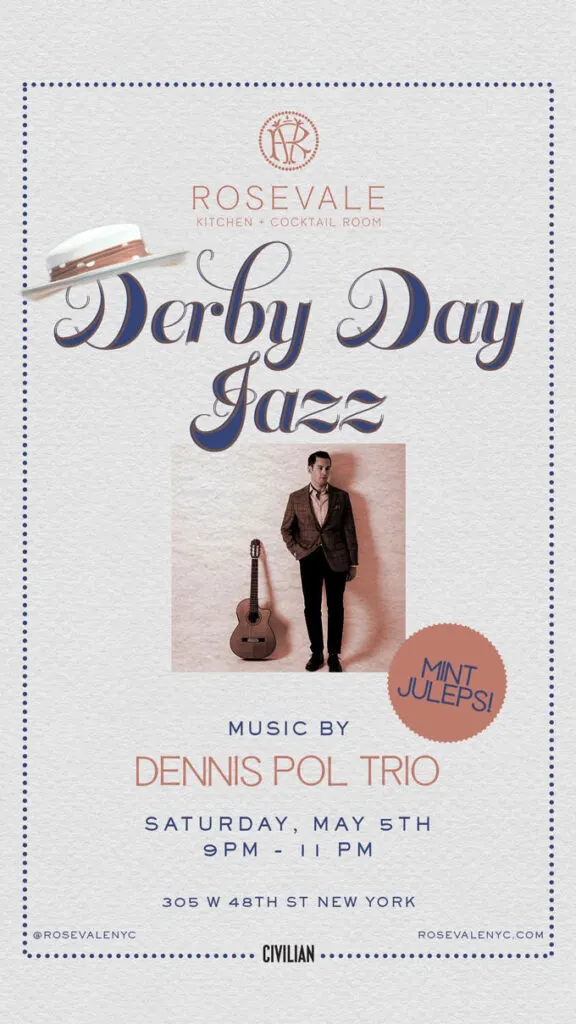 ROOF at Park South
ROOF at Park South has recently opened for the season and will host a Derby Soirée this Saturday, May 6th, to celebrate the Kentucky Derby in style.
This event will be a partnership between the rooftop, Woodford Reserve Bourbon, and Herradura Tequila, providing guests with a selection of delicious beverages, including the classic julep. In addition to the delicious drinks, there will also be Derby-inspired bites and exciting giveaways, including gift cards to Sweetbriar, the sister restaurant. To top it off, the rooftop will host a friendly competition for the best dress outfit, so be sure to inform your reader to wear their best hats and seersucker fits!
The event will run from 4 pm to 8 pm, and tickets are available on Resy for $55.
The Bar at Moynihan Food Hall
Guests can sit back with an Old Forester Mint Julep in their own souvenir cup and watch the big race on The Bar at Moynihan Food Hall giant screens. Pair the Mint Juleps with some delicious Loaded Fries from Jacob's Pickles and you're celebrating the Derby like a real Southerner. DJ's keep the party going all day and night.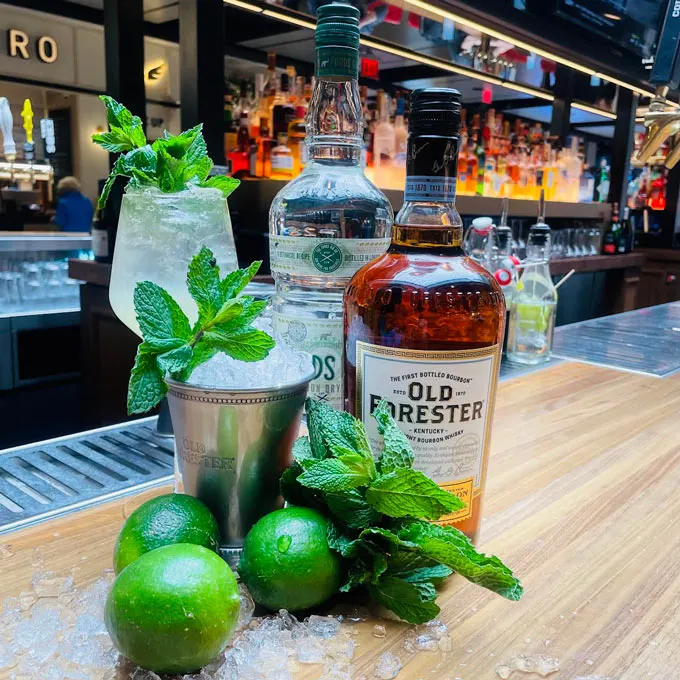 Legendary MC spoke about new music, hip-hop at 50, and his thoughts on how A.I. will affect sampling
Large Professor attends the 2nd Annual Jam Master Jay Celebration Of Life Fundraiser at S.O.B.'s on January 22, 2018 in New York City. JOHNNY NUNEZ/WIREIMAGE
LEGENDARY RAPPER-PRODUCER LARGE Professor saw no better way to celebrate his 51st birthday than by doing what he loved — rocking a crowd. On March 22, the day after his birthday, the Queens legend played an hourlong set at New York City's Starchild Rooftop bar to a crowd of hip-hop heads spanning hip-hop's 50 years.
His set mostly consisted of classic soul and funk songs containing breakbeats later sampled in classic hip-hop songs, such as Brentford All Stars' "Greedy G," sampled by Carlos Bess for Ghostface Killah's "Cherchez La Ghost." Even without playing much rap until the end of his set (which was followed by Dj Diosa Dynamite and DJ Late4Dinner), the set felt like an homage to the genre's origins. There are few better equipped to provide that sonic journey than Large Professor, who's renowned for his work with Nas (including three tracks on Illmatic) as well producing for his group Main Source, Eric B & Rakim, A Tribe Called Quest, Busta Rhymes, Mobb Deep, and more.
Before he took to the booth, Large Professor had a quick chat with Rolling Stone not just on his perspective of hip-hop at 50 but his current endeavors, including his Extra Exotic album with Nick The Exotic, and two upcoming projects, including a compilation he's helming, and a collaboration with rapper Raw Wattage entitled Down South Up Top.
"We got Ghostface Killah, Freddie Gibbs," he says of the upcoming album. "We doing a lot of bridging of the southern and east coast artists, but it's all boom bap, it's all relentless ill, boom bap."
What gave you the idea to do a set for your birthday? Is that something that you often?
Yeah, we've done it before at a party called Mobile Mondays, and it's just New York celebrating a hip-hop dude, just trying to keep the hip-hop vibe alive and keep it potent.
I saw that DJ Premier's birthday as well. Do y'all often do things to celebrate together?
We definitely call each other on the phone and bug out, but one day maybe we'll party together.
What are some of your plans for 2023?
Right now, I'm currently working on a compilation album where a lot of the new up-and-coming artists that I like, like a female artist named Stahr from Atlanta. She's kind of fire. I got some joints with my man Al Skratch. So I got the new and the old, just the whole spectrum of hip-hop. And I just recently dropped a project with my man Nick the Exotic called Extra Exotic, and that came out maybe a year or two ago. And also working on a project with my man, Raw Wattage. It's called Down South Up Top. We taking a different approach with this album. Instead of just recording it and putting it out, we've recorded it, and we hit the road with it. So now we going around and we making moves with that, hitting the stage with it and getting the crowd's feedback, and yo, it's dope so far.
How did that idea come together?
Yeah, so I got my man P. Watts, he's an artist that came out from the south, and he had the idea of bridging the South and New York. And he linked up with Tragedy Khadafi in the South, and Tragedy recommended that he worked with me on that project. And so far, so good. We got Ghostface Killah, Freddie Gibbs. We doing a lot of bridging of the Southern and East Coast artists, but it's all boom bap, it's all relentless ill, boom bap.
Are you going to be doing the bulk of the beats for your compilation?
What I've been doing recently is featuring DJs as scratches in hooks and stuff, so I may mix it up. So definitely, whatever it is, I just wanted to be banging. Definitely.
I saw that you were at The DA.I.S.Y. Experience, the De La Soul event recently.
Oh man, that was nice.
How was that for you?
Man, De La brought the love back to New York hip-hop and my generation of hip-hop because a lot of us now we going our ways and dealing with our families and things of the sort. Everyone loved De La, so everyone came out, and everyone was on stage. You see Queen Latifah a lot on television, so to see her back in her original state on stage rhyming, I loved it, man. Monie Love.
De La brought the love back, and now I just want to add more love to it. We got a bunch of dudes that told me they would be coming, my fellow producers. We just trying to keep it alive, hip-hop 50 world and beyond.
Speaking of Hip-Hop 50, what do you think about the state of hip-hop right now?
Oh man, I love hip-hop. It has a lot of subgenres now. You got trap and drill and all these different subgenres of hip-hop, but I prefer just to straight boom bap off of vinyl, the purest form of hip-hop music. That's what I still prefer. But I rock with a lot of new artists.
As we head towards the next 50, what do you think are some of the biggest questions that the community can ask themselves as we head towards the future?
Now that we've done pretty much a 360 where hip-hop has gone from having nothing to having everything and then now we are back to people not prioritizing making [money], they just want to get back into the art of things. So a question would be, do we want to go back through that cycle or do we want to just keep it real? Because the industry did a number on hip-hop, because people started chasing money and people started dying, all kinds of things. So it's like, now let's get back to the art, and let's marvel at the art and the artists. And let's respect them, let's love them, keep them pushing, let's keep them going. And yo, that's all it is. So do we want to do that cycle again? Do we want to go out here and inform the next generations?
Did you see the recent article about people using A.I. to spot samples? What do you think about the state of sampling?
Yeah, I mean, it's cool. I like it because it makes us sharper. I come from the original era where records were rare. Now, I don't know if artificial intelligence even has these records, so a lot of these choices is so under the radar that they really just trying to catch up. What they need to do is join with us and let us tell them what to do with this artificial intelligence, just how De La just got their stuff online. It's like, yo, work with us, and I guaranteed they'll be lit. You know what I mean? If artificial intelligence work with us, they'll be lit. The world would be lit musically. So it's cool, but I could work around that because I know that rare. Yeah, man, I know that throwback stuff that they ain't caught up to yet.
You mentioned De La Soul getting their music back on DSPs. Do you feel like there are some ways that maybe we're giving digital music or DSPs a little bit too much power? A colleague of mine wrote recently that it seems like some people acted because the music wasn't on DSPs that it didn't exist. Is there a way to shift that dynamic to reinforce the importance of physicals?
I think it's happening now anyway because the new generation, the cloud is kind of boring. They want to be able to touch the music, spin it back, throw it in, and things like that. So it has never been important to me to get digital. I always prioritized vinyl because it goes hand in hand with skateboarders. How the skateboarders take risks, they flip, and jump. It's like when you listen to music; you can touch the vinyl and spin it back and take a risk to throw it on time and things like that. So it's just making the world fun again. The world started becoming all ones and zeros. It's too flat. Now we starting to get those peaks going again, man, where it's like everyone's inspired artistically.
I saw you referenced in 2019 that you have demo tapes with Nas dating back to '91. Since then, have you talked to him about doing something with that? Because I see he did a remake of "Life Was Like a Dice Game." Have you talked to him about doing something like that?
Nas, he goes with what waves he is aligned with. And I go with what waves I'm aligned with. I'm super hip-hop, vinyl. But then it might come to him where it's like, "Yo, we got to get those demos out there" because that wave, it came a little earlier, but now it's subsided. That stuff is still golden, man. It's gold. I got it, man. People always [ask]. But it's up to him. That's his music. I did the beat, but that's his artistry.
Anything else you want to add?
Okay. I mean, hip-hop is a genre of music that always kept us young. It always keeps us young. The world should all embrace hip-hop from the old to the young, boom-bap original New York hip-hop. Come to New York and see what that life is about. Go Uptown, go to the Bronx, and check it out. It'll keep you young for life, and it's the only genre. It is one of the only genres that can do that. It keeps you young. Break dancing, graffiti, all of that. It all goes hand in hand through all generations from the seventies, eighties, and nineties; it's forever. So let's embrace that and concentrate and just get better and better at it. Word.
Alex Newell of "Glee," who recently made history as one of the first non-binary actors to win a Tony, tried the Gay Fantasia, an espresso martini served at their exclusive post-Pride party at Starchild Rooftop at the Civilian Hotel in NYC on Sunday. Proceeds from the special drink will go to a charity of Alex's choosing.
Legendary producer Keith Shocklee, one of the original members of Public Enemy and the Bomb Squad debuted his skills as this week's star DJ at Starchild Rooftop in NYC. The veteran musician proved he still has what it takes on the one's and two's playing hit after hit—several of which he produced himself.
As guests danced to 'Looking At The Front Door' and other golden era classics, Shocklee blended each hit with longtime-friend Kid from Kid N Play making an appearance. Contributing to a monumental era in hip hop creating a timeless sound that changed hip hop. From Fight the power, BBD (I Thought It Was Me)?—- to creating soundtracks to classic films like House Party, Juice and Mo' Money, Shocklee has been stamped as an innovator in hip hop.
Located in the heart of Times Square at the top of the boutique-style Civilian Hotel, Starchild Rooftop boasts stunning 360 degree views of New York City. Controlling the helm at the rooftop, Stevie Guttman curates a Wednesday night reminiscent of the late 90's club scene. Starchild Rooftop and Rock and Soul Records Presents meshes the flavor from Rock and Soul Records with the luxury of NYC nightlife. Founded in 1975, Rock and Soul DJ Equipment and Records is one of the oldest DJ shops in the world. They've worked with industry pioneers like Grandmaster Caz, Grandmaster Flash, Kool Herc, DJ Red Alert, Grand Wizard Theodore, Tony Touch, DJ Skribble to name a few. Now their mission is to curate a room highlighting industry legends atop the swankiest new rooftop in NYC.
From handcrafted cocktails—including shareable cocktails and a variety of espresso martinis, Starchild Rooftop boasts two outdoor patios and a retractable rooftop that can become a fully open-air space with panoramic views of the New York skyline.
Open seven nights a week, Starchild is Hell's Kitchen's newest hotspot for corporate and intimate events. Don't miss the classic weekly Wednesday night "Rock and Soul Records Rooftop Sessions" from 6:30-9:30pm. Enjoy a cool crowd and party under the stars.
They may not admit it, but not even New York City locals tire of experiencing the iconic skyline from epic heights—so rooftop bars are the places to be in The Big Apple, no matter the time of year. On a summer night in particular, though, there's nothing quite like catching up with friends while taking in panoramic views of sights like the Empire State Building, the Hudson River, the East River, Times Square, Central Park, the Statue of Liberty, the Chrysler Building, or the Brooklyn Bridge. And don't even get us started on NYC sunsets from up above.
Whether you're looking for an upscale bar to sip Champagne high above the city streets in Manhattan or a laidback Brooklyn spot to enjoy beer and the game with friends, Gotham has no shortage of excellent perches across the city. We've compiled a list of the 40 best indoor and outdoor rooftop bars that offer breathtaking views, delicious drinks, small bites (or, in some cases, full menus), and an impeccable atmosphere. Some of them even have pools. So whether you're a local or a visitor, these sky-high lounges are sure to leave a lasting impression.
1
Starchild
Located on the 27th floor of the Civilian Hotel, this rooftop bar offers stunning views of the Manhattan skyline. The inclusion of bottle service and caviar options matches the posh, upscale design of the space. For those looking to make a late night of it, the menu includes an entire section devoted to espresso martinis—including the Scorch, made with habanero, Reposado tequila, and coconut cold brew.
305 West 48th Street, starchildrooftop.com
2
The Highlight Room
The Highlight Room, perched atop the Moxy Lower East Side, is the Tao Group's attempt to bring their notable L.A. hotspot to New York City. To match the elegant aesthetic of the original, the space is filled with lush greenery, an olive tree, paper lanterns, chandeliers, and red velvet seating. Meanwhile, an outdoor terrace has views of landmarks, like the Empire State Building, on full display.
145 Bowery, taogroup.com
3
Electric Lemon
Electric Lemon, Equinox Hotel's restaurant, also features an 8,000-square-foot rooftop terrace with serene views of the Hudson River and the city skyline. The space offers dinner and a weekend brunch and is a perfect way to escape the city below to refresh and recharge. The hotel, located in the trendy Hudson Yards development, is an upscale destination, perfect for special occasions.
33 Hudson Yards, 24th Floor, electriclemon.com
4
Beast & Butterflies
Far above Times Square's noise, Beast & Butterflies offers small bites and cocktails within the M Social Hotel. The space features a wraparound terrace, offering a unique vantage point of the neon glow below. The space boasts two different menus of craft cocktails—appropriately named Beast & Butterfly, respectively—so you can order to suit your mood.
226 West 52nd Street, milleniumhotels.com
5
PHD Rooftop Lounge
Situated in the Dream Downtown, this chic venue from TAO Group flaunts Italian Portoro marble, Macassar ebony, nickel-finished walls, and amber Venini glass chandeliers that make this hotspot an ideal location for an unforgettable penthouse party. Shareable plates from chef Mike Armstrong pair well with bespoke cocktails, bottle service, and live DJs to create one of NYC's hottest rooftop dance parties.
355 West 16th Street, taogroup.com
6
LilliStar
This newcomer to the Brooklyn bar scene is set in the Moxy Williamsburg hotel and features indoor and outdoor seating with views of the Williamsburg Bridge and the Manhattan skyline. The space aims to blend Indo-Aussie beach culture with the unmistakable energy of Brooklyn, offering an array of tropical-inspired cocktails, along with Balinese barbecue. Those looking to share can try one of LilliStar's large-format cocktails, which incorporate tropical fruits and Southeast Asian spices.
353 Bedford Avenue, marriott.com
7
CATCH NY
This Meatpacking District mainstay offers a substantial bottle service program for anyone who wants a flashy night out. On weekends, expect top DJs to keep the party rocking. Catch has a seafood-heavy menu of poke bowls, shrimp, and crab rolls. A 3,000-square-foot indoor and outdoor penthouse with floor-to-ceiling windows highlights the views of the Meatpacking District below.
21 9th Avenue, catchrestaurants.com
8
Nubeluz
For a classic hotel bar experience, Nubeluz in the Ritz-Carlton Nomad has the classic old-school elegance of a hotel bar, but with the lofty views of a trendy rooftop bar. Light bar bites from renowned chef José Andrés elevate the spot even further, with lux takes on everything from grilled cheese to bagels and lox. The panoramic view of the city can be enjoyed from two different outdoor terraces.
25 West 28th Street, nubeluzbyjose.com
9
Ophelia
Found atop the Art Deco Beekman Tower along the East River, Ophelia includes a wraparound terrace with a 360-degree view of Brooklyn and Manhattan. The space pays homage to its Art Deco roots with plenty of classic cocktails and reinventions of old favorites. On weekends, DJs spin hits to make the space feel more like a downtown lounge than an uptown cocktail joint.
3 Mitchell Place, 26th Floor, ophelia.com
Advertisement – Continue Reading Below
10
cloudM
At 20 stories high, cloudM towers over the Lower East Side, giving visitors a panoramic view of the neighborhood. The outdoor deck has couches and benches for lounging during warmer months, while the warmly-lit bar is lined with cozy plush couches for enjoying a cocktail during the winter. The space also features dumplings from nearby favorite Nom Wah Tea Parlor.
189 Bowery, citizenm.com
11
Magic Hour
Magic Hour, 18 stories above Times Square, is touted as New York's largest indoor and outdoor all-season rooftop bar and lounge. The outdoor space is divided into two sides, with the East Terrace overlooking landmarks, like the Empire State Building, and featuring an elegant garden-party vibe. In contrast, the West Terrace is more playful, including one seating area that rotates slowly like an antique carousel. The space even includes an extra-mini golf course.
485 7th Avenue, 18th Floor, moxytimessquare.com
12
Harriet's Rooftop
Located right next to the Brooklyn Bridge, this rooftop bar in the 1 Hotel Brooklyn Bridge has stunning views of both the bridge, Lower Manhattan, and the East River. The bar offers craft cocktails and small bites while you enjoy the sunset over the city. An indoor lounge space can be found one floor below, with equally impressive views and nightly DJs to keep the party going.
60 Furman Street, 1hotels.com
13
Darling
Perched along Billionaire's Row, a whopping 47 stories above Central Park, Darling features a main indoor lounge and a lush, green outdoor patio with expansive views of the park below. DJs play a mix of funk and pop tracks, giving the space a playful vibe next to its magnificent, penthouse-like views. Small bites, like petite portobello burgers and basil arancini, round out the menu here.
36 Central Park South, darlingrooftop.com
14
The Ready Rooftop Bar
This East Village rooftop hopes to be your replacement for one of the most covetable NYC amenities around: a backyard. The Ready is decorated with outdoor lawn furniture and incorporates milk crates into the design, giving the bar a laidback, house party vibe—perfect for enjoying happy hour, featuring margaritas and tacos. Adding to the backyard aesthetic are tableside coolers filled with a mix-and-match selection of local beers and canned craft cocktails and wine.
112 East 11th Street, moxyeastvillage.com
15
The Rooftop at the Rockaway Hotel + Spa
Boasting a massive 6,000 square feet of indoor and outdoor space, this rooftop bar is located on the sixth floor of Queens' beachfront Rockaway Hotel and Spa. The bar features panoramic views of both Manhattan and the Atlantic Ocean, making it the perfect place to end a long beach day or have a drink after a relaxing visit to the spa.
108-10 Rockaway Beach Drive, therockawayhotel.com
16
Le Jardin at Baccarat Hotel New York
Take in the lush scenery—tall trees, manicured topiaries, vibrant blooms, and a treillage wall cloaked in ivy—at this lavish rooftop bar in the Baccarat Hotel. While drinking high-end cocktails from beautiful Baccarat glasses in the garden-themed space, you can also sample lauded chef Gabriel Kreuther's mouthwatering dishes and small bites.
28 West 53rd Street, baccarathotels.com
17
The Skylark
The Skylark has a breathtakingly beautiful view of the Hudson River, the Empire State Building, and Times Square from its 30th-floor terrace near Times Square. The space is only open to the public on weekdays, but you'll get a stunning view of the area, should you opt for a drink here during an after-work outing. Enjoy the view year-round from outdoor and indoor lounges, with floor-to-ceiling windows in the colder months.
200 West 39th Street, theskylarknyc.com
18
JIMMY
Located at the top of the ModernHaus SoHo, the JIMMY is a sleek and modern offering that has been recently redesigned, but still boasts some of the city's best, most unobstructed views. Relax on one of the chaise lounges on the terrace or dip in the rooftop pool during pool party weekends in the summer.
15 Thompson Street, jimmysoho.com
19
Bar Blondeau
This French-style bar comes from the talents behind Brooklyn hotspots Le Crocodile and Chez Ma Tante. The seafood-forward menu is accompanied by a natural wine selection and a creative list of zero-proof drinks. Coupled with unobstructed Manhattan views, it's a top pick for a fun and casual night out in Brooklyn.
80 Wythe Avenue, 6th Floor, barblondeau.com
20
The Daintree
This swanky rooftop is set on the top floor of Hotel Hendricks. Guests can enjoy the cozy 180-seat interior or head to the 70-seat outdoor terrace, which has plenty of opportunities for Empire State Building photoshoots. The menu here is martini-heavy, and the bites shouldn't be missed.
25 West 38th Street, 29th Floor, daintreenyc.com
21
Westlight
Notable chef Andrew Carmellini brought his talents to a Williamsburg rooftop when he opened Westlight in 2016. Set on the 22nd floor of the William Vale Hotel, the bar is the ideal place to take in an iconic NYC summer sunset—with a cocktail in hand.
111 North 12th Street, westlightnyc.com
22
Panorama Room
A special spot, thanks to its Roosevelt Island location, Panorama Room is set on the 18th floor of the Graduate Hotel. Drinks range from traditional (a white Negroni or a Manhattan riff) to incredibly unique (try the Roosevelt Island Yacht Club, a blend of fig-infused gin, Four Pillars Bloody Shiraz gin, Lillet Blanc, cinnamon liqueur, vanilla, botanicals, and lime.)
22 North Loop Road, graduatehotels.com
23
Dear Irving on Hudson
Reservations are required at this 41st-floor, retro-chic boîte, so don't miss out. As Manhattan's highest open-air hotel bar and lounge, Dear Irving on Hudson has creative cocktails, a sommelier-crafted wine list, and plenty of tasty small plates, like filet mignon bites.
310 West 40th Street, dearirving.com
24
Gallow Green
This hidden rooftop bar, above the ever-popular "Sleep No More," has been a favorite for years, thanks to its ethereal garden environment. While it's most popular in the spring and summer, the bar transforms into a cozy "lodge" during the fall and winter. It's an excellent spot for a date or simply a casual afternoon or evening.
542 West 27th Street, mckittrickhotel.com
25
Broken Shaker
Regarded as one of the best hotel bars (rooftop or otherwise), Broken Shaker uses creative housemade syrups, infusions, and fresh juices to craft perfectly balanced drinks. The cute retro-inspired space is only open to walk-ins, so you don't need to worry about making a reservation weeks in advance.
23 Lexington Avenue, freehandhotels.com
26
The Roof at PUBLIC
This energetic bar on the rooftop of the Lower East Side's chic PUBLIC Hotel has 360-degree panoramic city views, making it a great place for a sunset drink or a comfortable co-working space during the day. It's an even better late-night hotspot once renowned local and international DJs hit the decks.
215 Chrystie Street, publichotels.com
27
Mr. Purple
Mr. Purple, boasting a pool on the 20th floor of Hotel Indigo, is a long-standing rooftop favorite for locals and visitors alike. The menu has a range of classic cocktails and innovative creations, like a frozen Casamigos cranberry margarita.
80 Orchard Street, 15th Floor, mrpurplenyc.com
28
Somewhere Nowhere
There's never a dull moment at Somewhere Nowhere, a rooftop hotspot on the top of the Renaissance New York Chelsea Hotel. With various events, happy hours, and top-class DJs, it's a great place to gather friends for a night out—and there's even a pool.
112 West 25th Street, somewherenowherenyc.com
29
Refinery Rooftop
The crown jewel of Midtown's Refinery Hotel, this buzzy rooftop draws everyone from fashionistas for brunch to men in suits making a happy hour toast. The retractable roof means it's an ideal spot for year-round imbibing. Reservations are a must.
63 West 38th Street, refineryhotelnewyork.com
30
Serra by Birreria
Eataly's charming rooftop space is reminiscent of the Italian countryside and changes with the seasons, offering a rotating rustic menu featuring Italian specialties. Enjoy an aperitivo with fresh pasta or a cocktail with a plate of burrata. The 15th-floor terrace is covered, and while it still offers a nice view, it is more suited for those looking to soak up the atmosphere of the space.
200 5th Avenue, eataly.com
Advertisement – Continue Reading Below
31
The Fleur Room
The glass-encased bar at the Moxy Chelsea features a 360-degree view of Manhattan from its 35th-story perch, including views of everything from the Statue of Liberty to the Chrysler Building. In the opulent space, you'll find rich floral fabrics, a copper-clad bar, a water droplet chandelier, and—to drive the theme home—a massive vintage disco ball taken from the infamous L.A. club Vertigo. The glass walls of the Fleur Room are also retractable, so during the warmer months, the bar can be transformed into an al fresco dining space.
105 West 28th Street, moxychelsea.com
32
Rooftop Reds
A reservation-only rooftop spot inside the Brooklyn Navy Yard, Rooftop Reds is one of the more unique sky-high experiences in the city. The massive space, which features its own vineyard, is more akin to a large backyard party, with guests playing cornhole, laying in hammocks, and admiring the view of the city across the river. Their own wines aside, they also serve a selection of beers.
63 Flushing Avenue, Building 275, rooftopreds.com
33
Night of Joy
The rooftop patio of this grandma-chic Brooklyn cocktail lounge is open seasonally from spring through fall and is a great neighborhood option for sipping frozen margaritas with friends. There is not much of a view from the top, but you'll be here mainly for the incredible botanical cocktails and the musician-curated DJ nights.
667 Lorimer Street, nightofjoybar.com
34
Greenpoint Beer & Ale Co.
One of Brooklyn's largest breweries is also home to a sprawling, casual rooftop where guests can try an assortment of beers, ranging from ales and lagers—all made in-house. Food options skew towards comfort food (think fried chicken, a soft pretzel with housemade beer cheese, and crispy French fries).
1150 Manhattan Avenue, greenpointbeer.com
35
Overstory
A dazzling contemporary bar in Manhattan's Financial District, chic Overstory is set on the 64th floor and has a wraparound terrace, ideal for enjoying the views on a beautiful evening. Drinks here are elevated, relying on ingredients like bonito, peat, and husk cherry to develop complicated flavor profiles.
70 Pine Street, 64th Floor, overstory-nyc.com
36
Bar Cima
This intimate rooftop bar in the Grayson Hotel is mere steps away from Bryant Park and boasts views of the East and Hudson Rivers and many nearby skyscrapers. In addition to an expansive list of drinks made with authentic Mexican ingredients developed in collaboration with certified mezcalier Courtenay Greenleaf, Bar Cima has a luxurious, polished Mexican ambience with velvet jewel-toned seating and custom-made stone tables.
30 West 39th Street, barcimanyc.com
Advertisement – Continue Reading Below
37
LoHi
This relaxed Brooklyn rooftop calls itself a "rooftop bar for just how you are feeling"—which is typically pretty laid-back. Bartenders are relaxed and friendly, shaking up drinks like the Magenta Mountain (rum, blackberry, sage, lime, and amaro). And the food is good too.
314 Scholes Street, lohibk.com
38
Castell
Cozy Castell is steps from Times Square, but it feels worlds away once you're tucked away next to its fireplace or granite bar. The menu evokes a timeless feel by focusing mainly on classics with a twist, like a Negroni infused with strawberry Aperol. Next time you want a night out, Mad Men-style, embrace the sophistication of Castell.
260 West 40th Street, castellnyc.com
39
Make Believe
Atop the Sixty LES Hotel, Make Believe has stunning city views and a great outdoor patio for lounging on warm nights. The lush, green décor is right at home with the bar's tiki-inspired menu, while DJs worldwide regularly come to perform.
190 Allen Street, sixtyhotels.com
Advertisement – Continue Reading Below
40
Lost In Paradise
Long Island City's proximity to Manhattan means you can be sure the view will be top-notch at this Queens bar. On Tuesdays, there's a bottomless taco deal where you'll be able to sample as many tacos from the menu as you like—a perfect pairing with their Berry Bloom cocktail (made with fresh berries, triple sec, and lime juice) or their Smokey Margarita made with mezcal.
11-01 43rd Avenue, lostinparadiserooftop.com